Product
Product
☀️ Good morning
Introducing Hedgies, a collection of 4,200 unique, collectible avatars represented as NFTs on Ethereum which will be distributed to voters, traders, and the crypto community at large. We are excited for each one to find a home, and for Hedgies to grow & unite our incredible community.
All Hedgies in the initial distribution will be free to mint, serve as avatars for enthusiasts of dYdX and the trading community more generally. In addition, they will have utility on dYdX. Hedgies are filled with references to crypto and trading, and celebrate the unique culture of web3.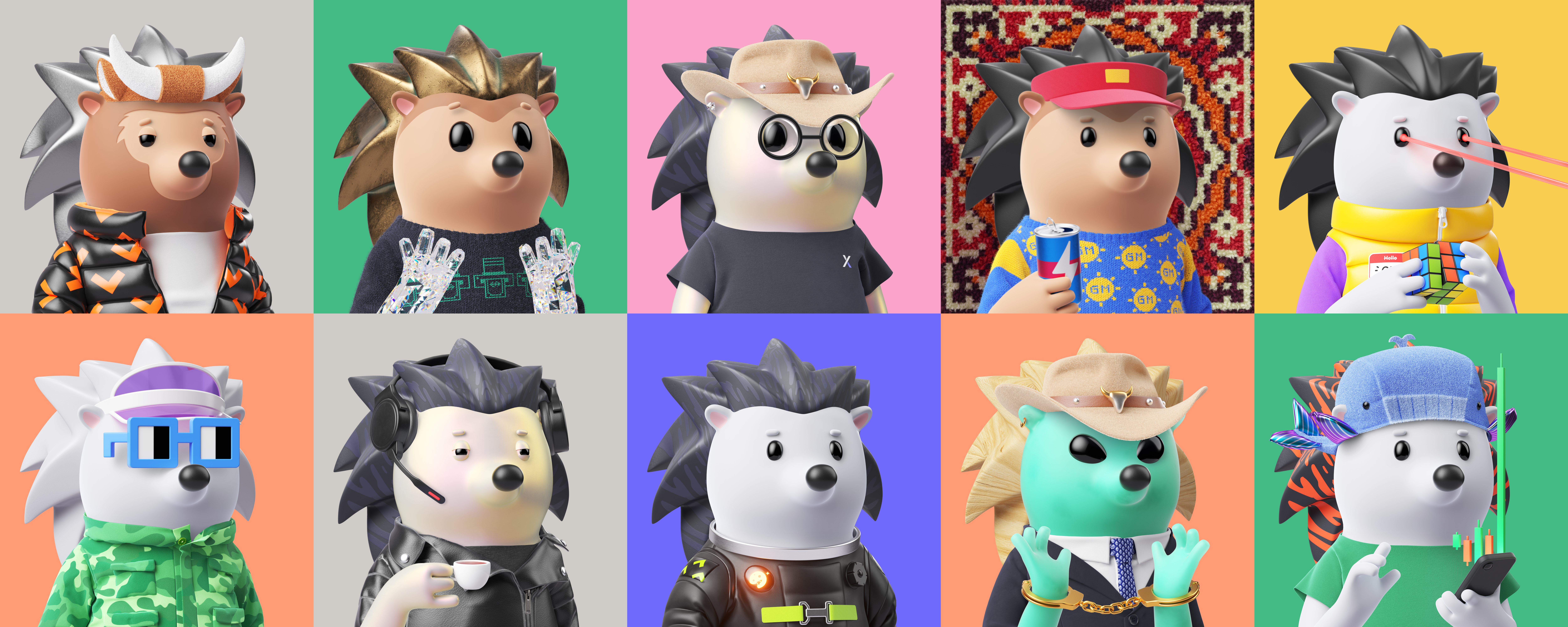 Hedgies will have two phases of distribution. An initial distribution will go to dYdX governance voters, traders and the general public beginning on Tuesday, February 1st, 2022 at 3:00 PM UTC. Afterwards, a daily & weekly distribution will start on Thursday, February 8th, 2022 3:00 PM UTC, as rewards to the top % PNL trader and the weekly champions of Trading Leagues.
Minting Hedgies will only cost gas, and dYdX Trading Inc. will take no royalties from the collection. Only a 2.5% royalty on transactions will be sent directly to the talented independent artists of the project, Anna Kajda and Arek Kajda.
The Hedgies collection unlocks the next chapter for our community & brand. They will be awarded to champions of the market, and serve as the foundation of identity on the dYdX exchange, especially once Profiles launch.
For further resources related to Hedgies and minting, please visit hedgies.wtf. For continued updates on the launch and additional announcements, please also follow the Hedgies Official Twitter.
Notwithstanding this summary, Hedgies will be subject to the Hedgies License Agreement, a license that gives rights as close as possible to full ownership of every aspect of Hedgies to Hedgie owners.
⚙️ Utility
Hedgie ownership will be verified on the dYdX exchange under user profiles and will serve as identities to early traders and governance participants on the dYdX protocol. Additionally, each user holding a Hedgie will also receive a one tier increase in  $DYDX fee tier discount on the dYdX protocol (for example, users who hold greater than or equal to 5,000 $DYDX will receive a 15% discount (in tier 4) rather than a normal 10% discount (in tier 3). dYdX Trading Inc. reserves the right to add additional utility to the Hedgies, and the discretion to change Hedgie utility.
✋ Distribution
4,200 Hedgies will be distributed in total and will only cost gas fees to mint. The distribution of Hedgies will be split into two phases: initial and ongoing distributions. This will be auditable, meaning that Hedgies will only be revealed once the initial distribution phase is complete at which point the entire collection will be revealed to the public.
The Hedgies contract will first be deployed on Thursday, January 27, 2022 at 15:00 UTC.
1️⃣ Initial Distribution
2,443 Hedgies will be allocated during the initial distribution phase. Each address in the initial distribution may only receive one Hedgie. There will be four tiers in the initial distribution, each occurring consecutively (before a tier begins the prior tier must finish).
Leftover Hedgies in any tier will roll over to the following tier (e.g., if five Hedgies go unminted in tier 2, those five Hedgies will be added to the total supply in tier 3). The tiers are as follows:
805 Hedgies will be distributed to individuals who voted in an on-chain governance proposal on dydx.community. The snapshot date for eligible addresses is Tuesday, January 18th, 2022 3:00PM UTC, and will include every user who cast a governance vote before that time. Users in the snapshot can begin minting on Tuesday, February 1st, 2022 at 3:00 PM UTC.

1,337 Hedgies will be allocated for traders on the dYdX protocol who actively traded in Epoch 5 (which occurred between December 21st, 2021 3:00PM UTC and January 18th, 2022 3:00PM UTC). This will be determined by tracking every user who received trading rewards in Epoch 5. Users in the tier can begin minting on Wednesday, February 2nd, 2022 at 3:00 PM UTC.

The final tier will consist of all Hedgies remaining from the prior tiers and can be minted by anyone on Saturday, February 5th, 2022 at 3:00 PM UTC.
Additionally, 205 Hedgies will be pre-minted for the dYdX Foundation, which plans to use them to promote the growth the protocol. This will occur near the beginning of contract deployment. Lastly, 96 Hedgies will be pre-minted for dYdX Trading Inc. to distribute through different channels over the coming weeks.
Once the first 2,443 Hedgies are minted, the necessary smart contract data for randomly distributing the Hedgies, can be deployed in an auditable manner. Then, dYdX Trading Inc. will upload the image metadata to IPFS and set it on the smart contract. The Hedgies will be revealed before the start of the ongoing distribution on February 8th at 3:00 PM UTC.
2️⃣ Ongoing Distribution
Once the 2,443 Hedgies from the initial distribution have been minted, the next 1,757 Hedgies will be distributed to Traders on the dYdX exchange over two years. The ongoing distribution of the Hedgies will also randomly distribute via an auditable distribution method, with a seed of randomness being the blockhash of the first block following the start of a competition.
dYdX Trading Inc. will custody a permissioned key that has the ability to mint Hedgies to any address up to the total supply of 4,200 Hedgies on a predefined schedule. This can only be used after the initial distribution has finished and will be used for distributing Hedgies to the daily and weekly competition winners.
⛅ Daily Competition
dYdX will distribute 1 Hedgie to the top trader by % PNL each day for 104 weeks. The daily competition will begin on February 8th, 2022 at 3:00PM UTC, and repeat every day. At the beginning of the day, a randomly selected Hedgie wil be revealed to be distributed on hedgies.wtf. This Hedgie will be randomly chosen from the pool of undistributed Hedgies. Once each daily competition has ended, we will distribute the previously revealed Hedgie to the daily competition winner within 30 days.
🏆 Weekly Competitions
dYdX will distribute an additional 10 Hedgies each week, starting on Tuesday, February 8, at 15:00 UTC, for 104 weeks. At the beginning of every week, or "season", ten Hedgies will be revealed on hedgies.wtf and trade.dydx.exchange, to be competed for during the following week.
For the first two weeks, there will be less than 10 distributed, given that all Leagues will not be populated.  After each week has ended, the revealed Hedgies will be distributed at random to the weekly competition winners within 30 days.
The top four performers in the Diamond league, top three in the Platinum league, top two in the Gold league, and top trader in the Silver league will each earn a Hedgie, based on the results of the weekly competition.
🎨 Artists
We owe a special thanks to Anna Kajda and Arek Kajda, without whom this project could not have been possible. For their contributions to illustration, character design, modeling & rendering, and more, Anna and Arek will be entitled to 2.5% of royalties on secondary sales of Hedgies. If you are a fan of the artwork, please follow them on Twitter, and share your love.
🗾 Resources
Follow @HedgiesOfficial on Twitter to stay in touch with latest updates, and bookmark hedgies.wtf ahead of the start of minting! Once revealed, you can view the collection on OpenSea. We hope you join the community!
---
About dYdX
dYdX is the developer of a leading decentralized exchange on a mission to build open, secure, and powerful financial products. dYdX runs on audited smart contracts on Ethereum, which eliminates the need to trust a central exchange while trading. We combine the security and transparency of a decentralized exchange, with the speed and usability of a centralized exchange.